ATHENS RIVIERA WEDDING VIDEOGRAPHER - Vouliagmeni Lake Destination Wedding
An ancient Japanese legend promises that anyone who folds one thousand origami cranes will be granted a wish by the Gods. Sebastian and Eleni folded 999 origami cranes, leaving the last crane for their destination wedding ceremony in Lake Vouliagmeni in the Athenian Riviera.
Folded and written
My mind
This world
Where we meet
Is beauty
Imagined and executed
It is my escape
"Origami Thoughts" - P. Drake
ANAFI WEDDING VIDEOGRAPHER
NAMPHIO
An ancient Japanese legend promises that anyone who folds one thousand origami cranes will be granted a wish by the Gods. Sebastian and Eleni, decided to get married in Athens. They planned their wedding from London, where they live, and the preparations included a lot of DIY. They folded 999 origami cranes, leaving the last crane for their destination wedding ceremony in Lake Vouliagmeni. Working as a Wedding Videographer in the Athens Riviera, I got the chance to meet this lovely mixed couple and to tell their lovely story; we became friends thereafter.
From the preparations till their wedding reception in Athens the day was planned with elegance and style, avoiding many of the cheesy pitfalls of "mass production" weddings. I suggest that you take the time to press play and watch the destination wedding video right above. You can continue reading on to discover the full story behind the film thereafter.
You can also take some time to check out my other destination wedding stories of mixed couples in Kythnos, Paxos or Lefkada. Hence you can see for yourself how each film is so different from every other couple's film.
The story involves a lot of travel around the world. A lot of friendships and experiences in different continents and two halves that become a whole. Their destination wedding video in Lake Vouliagmeni tells the story of how Sebastian and Eleni became "Sebleni" -as they call themselves.
Destination wedding in Lake Vouliagmeni
Eleni is originally from Kimolos a small Greek island in the Aegean. Sebastian is German, from Freiburg. A few years ago, they crossed paths in London. They now live in Asia.
This gorgeous couple value spending time with the ones they love. Hence, they organised a fabulous wedding party to celebrate the occasion of their destination wedding in Vouliagmeni Lake, with their nearest and dearests in the sweetest venue of the Athens Riviera and had me as their wedding videographer.
On this wedding I've had the chance to work alongside some great professionals as Eye Witness Stories Photography and SoundVoice DJ's. Most pictures featured in this article are courtesy of Eye Witness Stories.
Lake Vouliagmeni, in Athens Riviera is a Stunning Place to get married
Vouliagmeni Lake, in the heart of the Athenian Riviera, is some kind of hidden gem of Attica's nature. Situated on a very picturesque spot, between a hill and the sea, it exhibits a rare geological phenomenon. The lake's brackish waters are continuously replenished both by the adjacent sea and the underground thermal springs, offering thus a unique natural thermal spa experience.
At the edge of the lake, near the rocks, starts a labyrinth underwater cave which has been explored at a length of 3,123 metres. The end of this cave, featuring 14 distinct tunnels, remains elusive. The original aquatic life present inside the lake, as well as the presence of a huge stalagmite inside the cave are still the object of scientific research that may lead to original conclusions regarding the formation of the Mediterranean.
It is for sure one of the most singular and idyllic spots of the Athens Riviera to get married and it definitely provides an amazing backdrop for wedding videography.
Getting Married in Athens
Although usually planning a destination wedding is a daunting task for most couples, it wasn't this time. Eleni already had professional experience on event planning and she knew Athens very well. She was somehow the main coordinator of her own destination wedding in Lake Vouliagmeni.
The trickiest part of the organization for Eleni and Sebastian was to plan their ceremony. They didn't want to have a traditional wedding and preferred to have a humanist ceremony. They spent a lot of time thinking about what elements to include and how everything could be combined together to form a coherent day with character. But it is this effort that eventually made their wedding really meaningful and personal. Far from the cheesy protocols of copypaste wedding ceremonies.
The Importance of a Wedding Videographer in the Athens Riviera
It may sound like a cliche, but I cannot stress enough to couples getting married how important it is to have good quality wedding videography on their special day. With the passing of the years, memories can fade. Some of our beloved people may not be among us anymore; it is the sad reality of life. My mission as an Athens Riviera Wedding Videographer is to keep all these memories alive throughout the years. Not only by documenting the events of the day, but also by bringing into life the whole story of you as a couple and of your family, through your wedding film.
Athens Riviera Wedding Videography
Needless to say that for a destination wedding in the Athens Riviera it is important to have a local and experienced Wedding Videographer. Not only because he can guide you through the best cinematic spots to elevate the quality of your couple shooting session. But also because the right person will be able to take much stress off your shoulders.
It has happened to me many times to give valuable scheduling advice to couples preparing their special day. It has also happened to manage to calm down brides getting stressed during the preparations because something went wrong. There will always be unexpected events. The important thing is to figure out how to maintain calm and keep enjoying the special day that was planned so much ahead.
The Preparations
Sebastian got ready in a hotel of the Athens Riviera, while Eleni had her makeup, hair and dressing in her family house downtown Athens. The groom got dressed in company of his best friends, while the bride had both her family and girl friends helping her get ready for the big moment.
Eleni glowed wearing a Haliton dress by Charlie Brear. Whereas Sebastian chose a classic suit from Hugo Boss. They both looked amazing together.
The Concept of the Decoration
Receiving guests from all over the world, they organized and prepared many travel decorations by themselves for the reception. A large worldmap where everyone would write their best wishes to the newlyweds, as well as a photo tree gathering old photos from all their guests. The giveaways and invitations were also made by the couple with materials and decorations they found online.
Emotional Wedding Ceremony in Vouliagmeni Lake
The whole ceremony was written by their close friend Patrick. Sebastian and Eleni wrote their own vows. Throughout the ceremony there were moving speeches from Eleni's sister as well as from her bridesmaid and from Sebastian's best man. The couple had carefully picked all the songs that were heard during the ceremony, as well as their first dance music, from bands they had seen together on stage in the past. They also took the time to tag each table with a name of a city or location they had traveled to together. It is this attention to detail and their elegant taste that made the whole Athens Riviera resonate with the vibe of this destination wedding and, gladly, I was there to capture this on video.
It was a very emotional ceremony. Lake Vouliagmeni is a unique location filled with energy and character. Bringing together two families from different countries and friends from at least 11 countries worldwide created a truly special atmosphere.
During the ceremony Sebastian and Eleni folded the 1000th origami crane together, looking to fulfill the ancient Japanese legend promising that anyone who folds one thousand origami cranes would be granted a wish by the Gods. As an unconventional couple looking to break traditions, they also decided to exchange vintage wedding Swatches instead of rings. They couldn't make up their minds on getting rings or not so they thought a watch would make a beautiful statement about spending the rest of their time together. Time is in fact a central concept in their Lake Vouliagmeni wedding video.
The highlight of the event was when Patrick, who was officiating, asked them mid-ceremony to turn around and look at their guests who were present. They turned around to see all these smiling faces full of love and emotion. It was really touching and they both had tears in their eyes.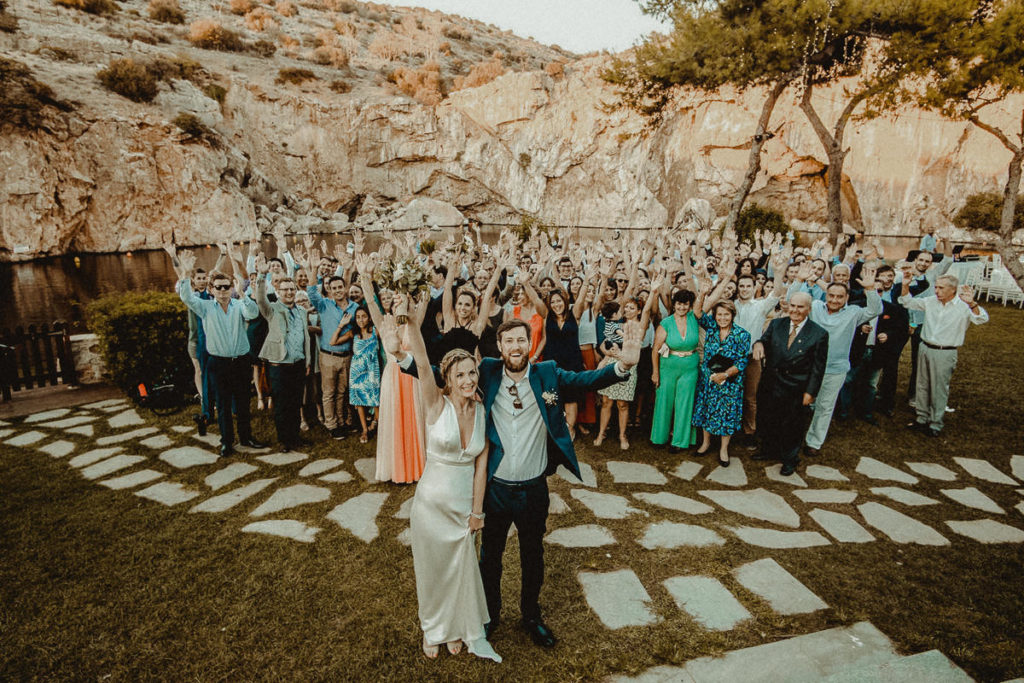 Wedding Reception in Athens Riviera
After the dinner there were very emotional speeches by friends and family. You can watch some parts of these speeches in the wedding film above. The first dance of Eleni and Sebastian was just a sparkle to ignite a fire for a crazy party till the early morning. It was one of the best wedding receptions I have ever witnessed as a Videographer in the Athens Riviera. And I can assure you that I have seen quite a few!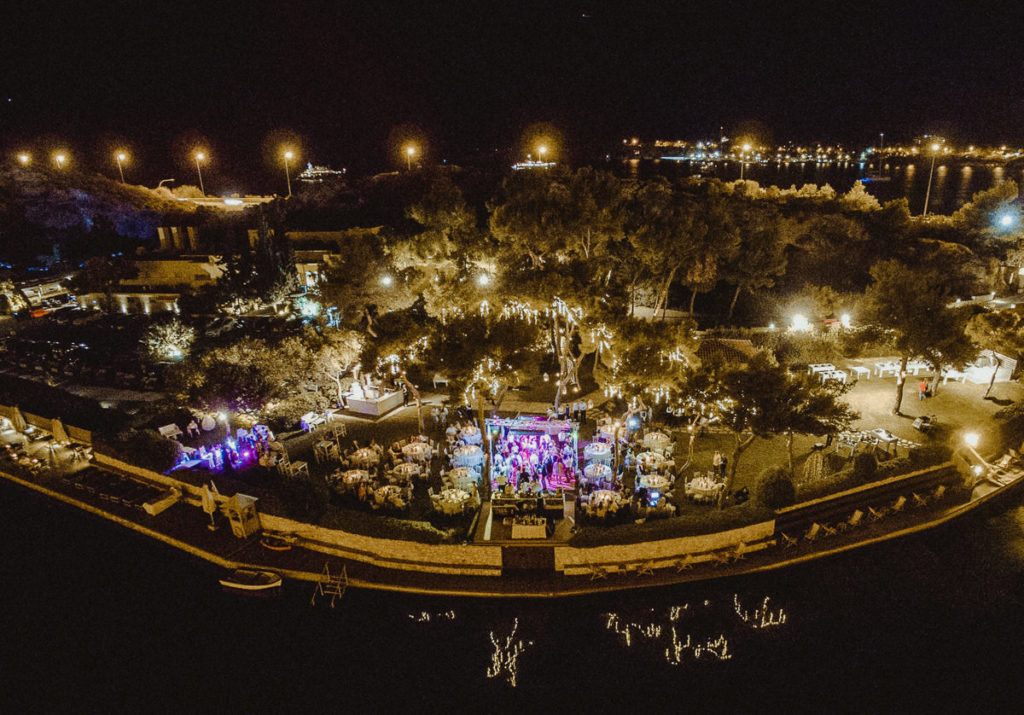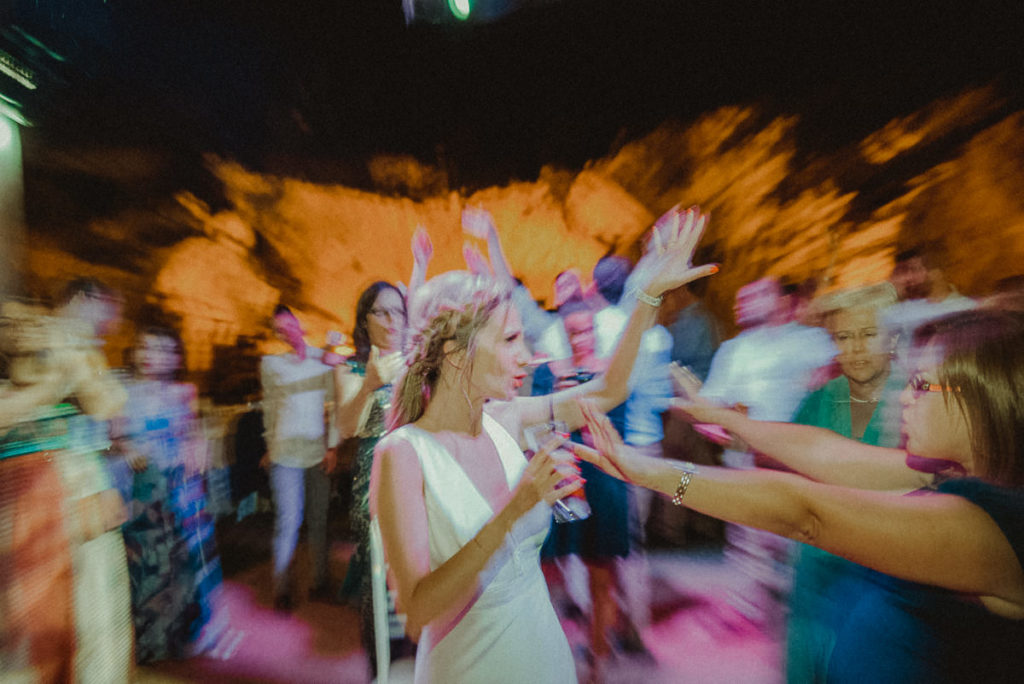 Destination Wedding Film Awards
This wedding film has been awarded as one of the Best Wedding Videos of 2017 internationally. It has won the Best Wedding Film Award in two international film festivals. It has also been featured on the Style Me Pretty wedding blog.
It is always interesting to see a wedding film performing well in an international contest or film festival that is not strictly related to the wedding industry. Maybe a proof that narrative techniques and cinematic language can be implemented efficiently in a wedding film to create a short movie experience of higher standards. Check out more of my awarded videos here.
Planning your Wedding video in the Athens Riviera
If you start planning your destination wedding in Athens you know how important it is to collaborate with the best vendors. You are probably looking for the best Videographer in the Athens Riviera, rightly so. Wedding Videography is one of the most important parts of your wedding day. For me crafting a wedding video is a very personal affair. I need to connect with you, understand your characters, get to know your story. That is how I can create something new and totally representative for you.
Are you getting married in Lake Vouliagmeni? Are you planning your destination wedding in Athens? Then you have found the right person to be your Athens Riviera Wedding Videographer! I am already based in Athens and I can assist you organizing your dream wedding. Let's start planning your wedding in Athens.