BOHEMIAN MOROCCO ELOPEMENT - Marrakech Desert Wedding Film
They met through friends but only a year later their discussions and common interests brought them together. After three years with their ups and downs, they exchanged vows of love in a symbolic elopement ceremony in the Moroccan desert.
Amid the noise and collision of caravansary in Jemaa el-Fna
I hear your soft drawl joking with snake charmers, always in hustle
In souks the sweetness of fennel and myrrh swirl in the wake of travellers steps
and I'm reminded of your desert scent, like cedar and musk covered dust
"Marrakech" - Softly Spoken
Let's travel from the south of Portugal to the desert of Marrakech for a Bohemian destination wedding Elopement ceremony in Morocco. This is the story of a mixed couple that met through friends, but, only a year later, realized that were meant to be together. After surviving a long distance relationship and three years with their ups and downs, they exchanged vows of love in a symbolic elopement ceremony in the Marrakech desert.
As a Morocco Wedding Videographer I have created another multi awarded elopement film in the desert of Marrakech. It is called "Three Prayers for Love". If you haven't watched it already, I suggest that you also have a look. You may be inspired.
Marrakech: A unique city for an Elopement Wedding in Morocco
Morocco is a unique place on earth with such a singular beauty! The old Medina of Marrakech is a busy honeycomb of colors, sounds, smells and tastes. Definitely one amazing place to plan an elopement or a destination wedding in Morocco.
When you arrive for the first time in the Medina you can be overwhelmed by the noisy and frenetic motion in the souks and the motorcycles passing through the labyrinth at high speed. But after enjoying a mint-scented tea in the patio of a riad you will start to appreciate the unique feel and become involved with the Marrakech vibe.
The desert of Marrakech is only a short drive away. A unique minimal landscape to ride a dromedary, see some traditions of the bedouins and enjoy the calmness of the sunset. The hills are the perfect backdrop for a Marrakech desert elopement.
Morocco Elopement Wedding: The Story behind the film
Love Story in Portugal
Nastya and Rory first met through friends. However, they started seeing each other only one year later. Their discussions and common interests brought them together in a long distance relationship. Rory was living in the South of Portugal, while Nastya was studying in Lisbon at that time.
They have always faced their ups and downs through honest discussion, and this is actually what kept them together and forged their relationship as a couple. This brings us, three years later, in Morocco for this symbolic exchange of vows in the desert.
Getting ready
The bride and groom got ready in the beautiful patio of the Riad al Loune in the center of the Medina. In a warm and cosy atmosphere they wrote their vows by the pool during the preparations.
The airy and romantic bridal dress by Alexia Kirmitsi looked stunning on her and contrasted nicely with the deep red dried flowers on her headband. Rory opted for a very cosy, yet sophisticated look with a linen shirt a scarf and his all stars. A match made in heaven for a dream elopement wedding in the Morroco desert.
The ceremony
The wedding ceremony took place in the small secluded camp Yes We Camp in the Marrakech desert of Agafay. The amazing staff from the Riad al Loune took care of all the decoration. A triangular arch with rich bouquets of white roses, a moroccan red carpet and a dromedary camel composed the amazing setup for this symbolic ceremony.
When the couple arrived at the camp, they had a warm welcome by traditional Moroccan music players.
This is the beauty of elopement weddings in Morocco compared to more busy weddings. The couple has the time to focus on each other and on their special day. On the other hand, their videographer and photographer team have the opportunity to focus on details to tell their story.
Filming in the Desert at Sunset
Right after the ceremony the couple enjoyed some of the typical activities organized by a Moroccan desert camp: Drinking a cup of tea under a tent, riding on a dromedary camel and watching the sunset behind the desert hills.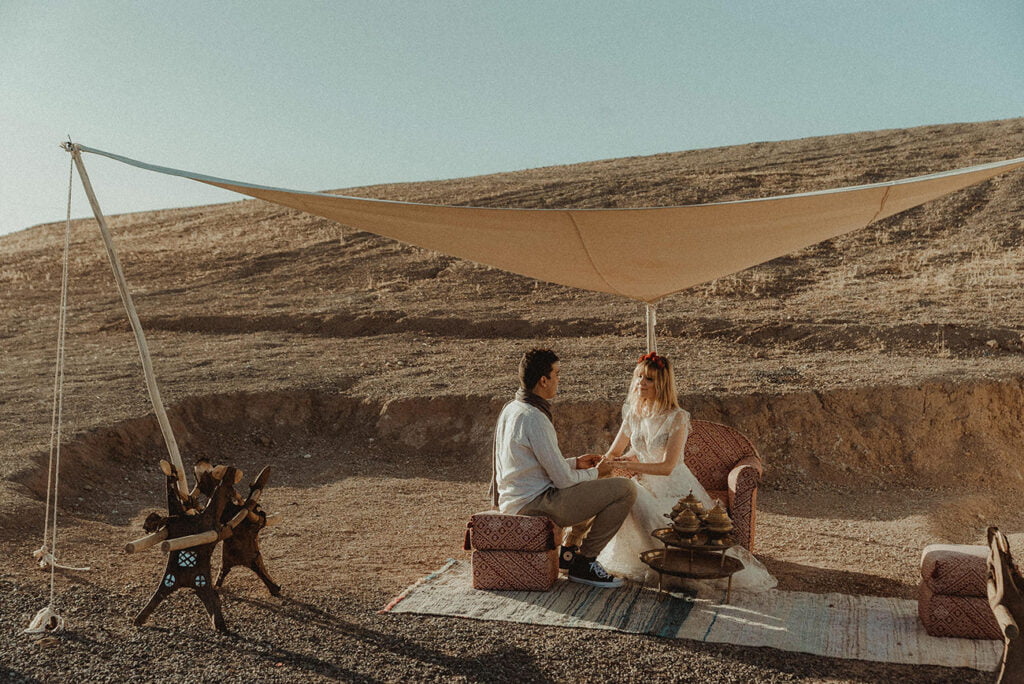 It was a unique experience for everyone to watch the Marrakech desert landscape transformation after sunset in Agafay. It is a moment that you enjoy in silence and that you take forever with you.
For those who may be interested in more "technical" aspects, this elopement film has been color graded using the Nostalgia LUT from my Cinematic Poetry LUTs.
Morocco Wedding Photographer
I really enjoy filming Elopements more than traditional – crowded weddings, because they leave room for a lot of flexibility to schedule everything optimally with the couple. As a filmmaker, I often use a few frame grabs from my films to illustrate the storytelling for the couple. Hence, the few pictures featured in this article.
We had a great time with the couple in our session. Our great connection led to an excellent coordination during this elopement wedding in the desert of Morocco.
Your Morocco Elopement Film is the Best Memory from your Destination Wedding in Marrakech
If you are considering an elopement type of destination wedding in Morocco, right in the desert of Marrakech, you will probably be inspired by this story. In a humble, yet heartwarming, ceremony you can exchange your personal vows of love with your other half. From my side, as a creative filmmaker, I will make sure that your Morocco elopement film will become a cherished heirloom for you and your family.
Feel free to check out some of my other elopement wedding videos:
Emotional elopement in Santorini Greece,
Intimate elopement in Iceland,
Winter elopement in the Austrian Alps
Romantic elopement in Crete Greece
If you feel a connection with my work, do get in touch with me. I cannot wait to hear your story.