SANTORINI WEDDING VIDEOGRAPHER - Emotional Elopement Video
Lindsey & Dune both have their children from their respective previous marriages. Their love story is intense, raw and emotional. Exactly as their vows at their elopement in Santorini
There is another sky
ever serene and fair
and there is another sunshine
though it be darkness there;
"There is another Sky" - Em. Dickinson
SANTORINI ELOPEMENT
LINDSEY & DUNE
If you are planning your destination wedding in Santorini, you may have already watched my adventurous elopement video, but here is something a bit different. Lindsey & Dune are an amazing adventurous couple from Nashville TN in the US. In a glimpse of craziness and without any former plans they organized a surprise elopement and had me as their destination wedding videographer in Santorini. A crazy and spontaneous idea to get married in Santorini in the most intimate way! But as a fan of crazy ideas, I had to create something special to tell their story in the most raw and authentic way. Press play and watch the film above, awarded as Europe's Best Wedding Video 2018 by Way Up North.
The couple work as a professional photographer & filmmmaker team themselves in the US. Therefore, as artists, they have a laid back, bohemian attitude and a nomadic lifestyle. They are undoubtedly two of the most kind and lovely souls I have ever met. Two interesting individuals that together, form a very beautiful couple with a sincere and well-thought relationship.
Santorini is a unique place for an elopement
Santorini, one of the most famous destinations for weddings and elopements, has acquired its current form of the caldera after several volcanic eruptions throughout the years. A caldera is a large cauldron-like depression that forms following the evacuation of a magma chamber causing the ground surface to collapse downward, leaving a massive depression at the surface.
The iconic Caldera in Santorini is a basin, four miles in diameter. The inner coast around the caldera is a sheer precipice of more than 300 meters drop at its highest, with the main towns Oia, Fira, Imerovigli perched on the crest. An absolutely breathtaking place for a destination wedding or elopement.
It's no coincidence that Santorini is the top wedding destination that combines comfort with adventure, relaxation with exercise and, above all, mountains with a sea view. A location that can generate tons of inspiration and enhance the creativity of every Santorini Wedding Videographer.
Planning an elopement in Santorini
When planning a destination wedding or an elopement in Santorini you need to trust the most important wedding vendors for your event. Your wedding planner, your photographer and your videographer. Not necessarily in that order. They will be the ones to provide valuable advice, help you create schedules and timelines and assist you solving unexpected issues that might arise along the way.
Santorini has a lot of amazing spots for your pictures and videos. However, it is a very crowded place, especially during summer months. Hence choosing an experienced local photographer and videographer from Greece will help you deal with shooting in the best spot, while respecting the timeline of your wedding or elopement.
Santoriny Wedding Videography: The story
Lindsey and Dune enthralled me from the first moment I met them. They are complete individuals, fully realized in themselves, but also better together in that way that couples you look up to have. They make each other better. Lindsey and Dune are best friends that are always together and I am in awe at the respect they have for each other. I love how they celebrated who they are together on the day of their elopement in Santorini. And I feel blessed to be their Santorini wedding videographer.
They both have their children from their respective previous marriages and have gone through a lot in life. Their love story is intense, raw and emotional and involves struggles, as well as a bit of pain from the past.
In May 2018 they travelled all the way from the US to Santorini. Not only to enjoy the unique beauty of the Caldera for a few days, but also to exchange their vows and get married in front of the hidden chapel of Aghios Nikolaos in Megalochori.
The elopement preparations
The couple got prepared at Antrum Villa in Imerovigli. A traditional cave house which has been carefully restored and redesigned to a luxurious and modern villa offering a one of a kind experience. Maintaining the Cycladic tradition with exceptional modern aesthetics. A dream location at the highest point of Santorini's Caldera, Imerovigli, with a 180 degree view, including the volcano and one of the world's most famous sunsets!
Lindsey and Dune wrote down their vows on pieces of white paper. They are always simple and honest. Their words come straight from the heart. Lindsey got emotional while writing down her vows. She threw a piece of paper on the floor.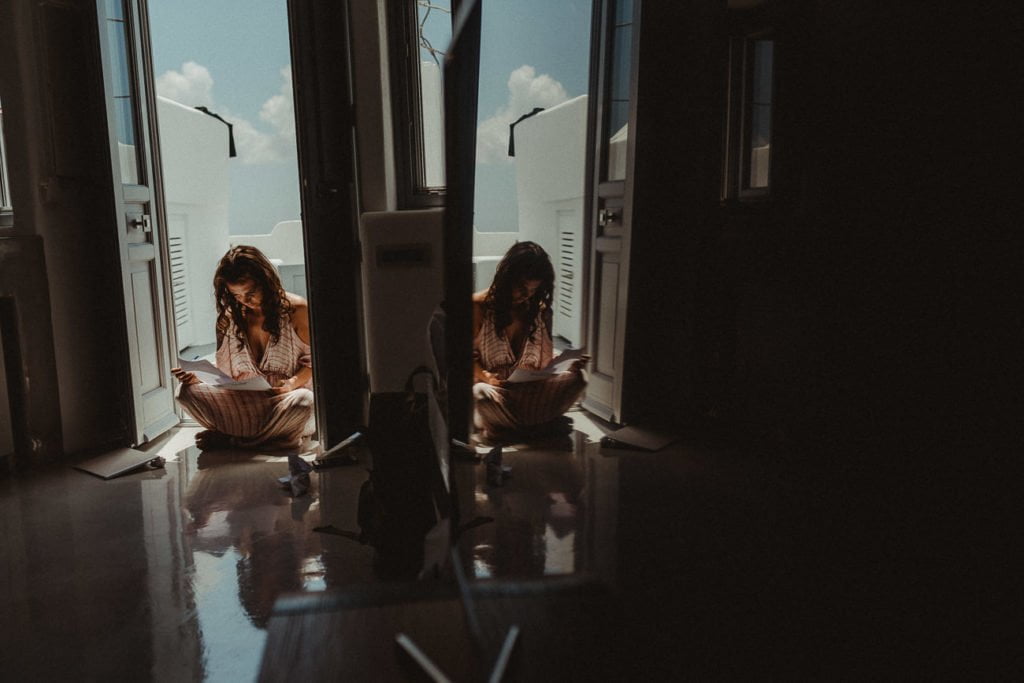 They got dressed together and helped each other while dressing up. To celebrate the infinite beauty of the Caldera landscape, Lindsey chose to make a bold statement with a heritage wedding dress by Atelier Zolotas. Dune opted to go for a bohemian look by Gentlemen Experts.
The boho floral creations by Antoineta Koutsouradi totally matched the character of the couple and the vibe of the day. So did the beautiful and unique jewel from Thallo Jewelry that Lindsey wore on her arm.
The importance of a Santorini wedding videographer
Having previous experience as a destination wedding videographer in Santorini, I was able to assist the couple in picking the ideal spot to exchange their vows. A place far from the tourists and the noise, with a breathtaking view on the volcano and the Aegean sea. The church of Saint Nicholas (Aghios Nikolaos) of Megalochori or Posta is majestically built on the rim of the Caldera. The architecture is impressive and immaculately white! It is a hidden gem, and a stunning place to get married in Santorini, but you need to hike to arrive there.
A breathtaking spot for an adventurous elopement in Santorini
Not far from Megalochori village's exit to the main road, you can find an amazing hiking route. The route to our venue. After the first and easiest part, there is a nice spot for pictures with a unique view of Palea and Nea Kameni and Aspronisi. It seems like the volcano islands along with Therasia are crammed and very close to each other. It is the angle and the light that also makes them look like they are sailing towards Imerovigli and the Skaros rock.
While we continued hiking we enjoyed the funny ground with the white volcanic ash enriched with black lava rocks and the low bushes with purple and yellow flowers. A few minutes later we met a path paved with rocks that led us to a scenery coming out from a science-fiction movie.
The path runned parallel to the volcanic wall and quickly, we found ourselves on the top of a cobblestone stair made by wide, volcanic steps from black lava pebbles. The stair took us downwards the steep cliff of the caldera, but from both sides, huge walls from volcanic ash and lava stones stood there to protect our descent.
Then we started seeing the bell tower of the Agios Nikolaos chapel that gradually appeared; a white washed chapel that seemed to be getting born from the bowels of the rocks. The chapel and the scenery compose an adagio of deep colors, Aegean perfume and peacefulness! In brief, the ideal backdrop to get married in Santorini!
The Elopement Ceremony
Lindsey and Dune exchanged their vows on the rim of the Caldera. In front of the chapel. Far from cheesy wedding stereotypes and from extravagant promises by newlyweds, the vows really striked me with their honesty and moved me. I feel that this is really the best way for a couple to get married in Santorini. Their words coming straight from heart felt very strong, raw and emotional, while being fully realized. For me this is a true demonstration that we all deserve to get a second chance in love.
I have tried to build their wedding film around this concept of "having a second chance".
All the pictures and video thumbnails featured in this article were shot by me. Although I am not a destination wedding photographer, I always love to use a combination of frames from my videos, thumbnails and my pictures to tell the story.
Europe's Best Wedding Video Award
Lindsey & Dune's wedding video has been elected Europe's Best Wedding Video in the Way Up North Conference 2018 in Cannes. It is one of the most prestigious awards for European Videography, in a very disputed annual competition bringing together photographers and Videographers from all over Europe and the world.
The film has also won the Best Wedding Film Award in the 19th edition of Inspiration Photographers Awards and a Silver Distinction Award by the Annual Competition 2020 of the American Association WPPI.
Recently, it has been featured on the Chic & Stylish Wedding Blog.
Although the main intention of my work is to focus on the couples and to tell their stories, I could not be happier for such achievements! When many independent people connect with the story of my films, it gives a clear indication that my approach and work philosophy are on the right track.
Your Wedding video in Santorini
I feel really blessed to be a destination wedding videographer. To be able to travel to iconic places like the Greek Islands, and to film in breathtaking Venues overlooking the Caldera, like Le Ciel, Venetsanos Winery, Dana Villas, or Santorini Gem. It is amazing to meet new people and to tell the love stories of adventurous couples that decide to get married in Santorini. Be it in Santo Winery, Rocabella Hotel or Canaves Oia. The island is full of amazing wedding venues! Check out some of my signature destination wedding films I have created there.
Are you planning to get married in Santorini or simply eloping there? I would love to be your wedding videographer in Santorini. Having my base in Greece, I can be there in a blink of an eye. Let's create some magic for your wedding in Santorini, together.