Tuscany Wedding Videographer
Many people dream about their wedding day all their life. Are you one of those people? A destination wedding is something that you and your loved ones will always remember. Travelling to another country for your wedding helps start off your married life on the right foot. A life filled with new experiences, a positive look out on challenges and a beautiful wedding. Are you getting married in Tuscany and searching for a wedding videographer to shoot your Italian destination wedding? Chances are that you are looking for the Best Wedding Videographer in Tuscany and found me! Well you came to the right place!
Italy is full of amazing places to plan your destination wedding. From the mystical beauty of the city of Venice, to the mediterannean charm of Ravello in the Amalfi Coast, the raw beauty of Puglia, passing by the distinct medieval mood of Umbria and the bespoke luxury of Lake Como. If you have already decided on your destination wedding in Italy but are undecided about the place, I am here to help you.
About Tuscany
Tuscany is a beautiful region filled with scenic views and romance. Associated with story and culture through ancient years, Tuscany was the home land of the Etruscans, which was annexed by Rome in 351 BC. Although it suffered many invasions during middle ages, it is considered as the birthplace of the Italian Renaissance, hosting many of the most influential figures that helped lead Europe back to civilization. Today it is regarded as one of the main touristic poles of the country, featuring premium wine and olive oil production, exquisite italian delicacies, and a very peaceful and untouched natural environment to relax from day to day stress.
My mission as a Tuscany wedding Videographer
Get married in Tuscany for an experience of a lifetime with your new partner and all of your loved ones. My mission as a wedding videographer in Tuscany is to tell your story through a unique arthouse wedding video, which will be representative of who you are. Documenting exactly what happened on your wedding day is probably what most videographers would do for you. Telling your story as a couple through your wedding day, instead, is more subtle and more personal. This is what I will do for you!
Italy is my second country. I often film destination weddings, but I also have many good friends there. So I spend a lot of time every year between Northern and Central Italy. Hence, I love travelling to Tuscany to film your love story through my perspective.
Get Married in Tuscany
Planning a destination wedding in Tuscany has its pros and cons. It can be hard to arrange a wedding in your hometown, imagine doing the same in a foreign country. Surprisingly though, your destination wedding can end up being cheaper than you'd think. This is why choosing the best vendors in your popular wedding location is essential. Start by booking the best Wedding Videographer in Tuscany, since the scenic view will surely call for it. Trust your Videographer. Apart from creating a unique masterpiece film for your wedding, he will be able to put you in touch with some of the best photographers and wedding planners in Tuscany.
Where to get married in Tuscany
The whole region is well known for hosting romantic and luxurious weddings. From the most intimate to the most sofisticated ceremony, you will find the best place for you to get married in Tuscany.
There are numerous wedding venues in the region and it would be impossible to create an extensive list. Nevertheless, if you plan to get married in Tuscany, I suggest that you check out my guide dedicated to the best wedding venues in Tuscany. It will probably give you some fresh insight and inspiration for the planning process.
Some of the top venues, where I would be glad to shoot your destination wedding video in Tuscany, are:
La Foce
A stunning Renaissance house close to Siena, featuring an amazing formal Italian garden with a spectacular view over the valley of the Orcia and the Amiata mountain. Restructured by the English Architect Cecil Pinsent, La Foce is deservedly considered to be an ideal example of Tuscany's architectural and cultural evolution in the XXth century. An elegant venue for a luxurious destination wedding in Tuscany La Foce can accommodate your guest into living solutions ranging from small apartments to free-standing farmhouses, all with swimming pools and private gardens; I would be really delighted to be your wedding videographer in Villa La Foce
Villa Gamberaia – Florence
No words can do justice to this historic villa, built in the early 1600s, with a magnificent garden and amazing landscape. A luxury villa located on the hills of Florence. They have luxurious rooms and many other amenities to host your guests and offer a pleasant stay for your destination wedding.
Villa Cetinale – Sienna
A 17th century villa, designed by the architect Carlo Fontana, in the Roman Baroque style and situated near the picturesque city of Sienna, the Villa features gardens that are considered to be amongst the most beautiful in Italy. In an ideal setting close to the most important sites of Tuscany, the Villa offers an ideal setting for your destination wedding.
Other places to get married in Tuscany
If you need more ideas to pick your dream wedding venue in Tuscany, I suggest that you spend some time to go through my extensive guide of the best wedding venues in Tuscany. I update this guide regularly with new information and include pictures of each venue, so that you can have a better idea. If you would like to have more information, or want me to include your favorite venue in my guide, don't hesitate to get in touch.
These venues usually have amazing rooms, pools and amenities. Most villas are ready to accommodate larger wedding parties and also offer 3 meals a day. These villas are luxurious and the perfect place to celebrate your special day. Every villa has an amazing view which means that you will have the perfect backdrop for your wedding videography in Tuscany.

Best time to get married in Tuscany
The classic Italian Wedding season spans from May till late September. If you are a fan of warm weather and golden sunsets in the Tuscan countryside you will be delighted to get married in Tuscany during summertime. But if you are planning an intimate wedding ceremony or an elopement with just the two of you, any time of year can be wedding time in Tuscany. A few raindrops should not be able to prevent the most adventurous souls from getting married. There is a saying in Italy for this: "Sposa bagnata, sposa fortunata", which could translate as: rain on a wedding day brings good luck to the bride.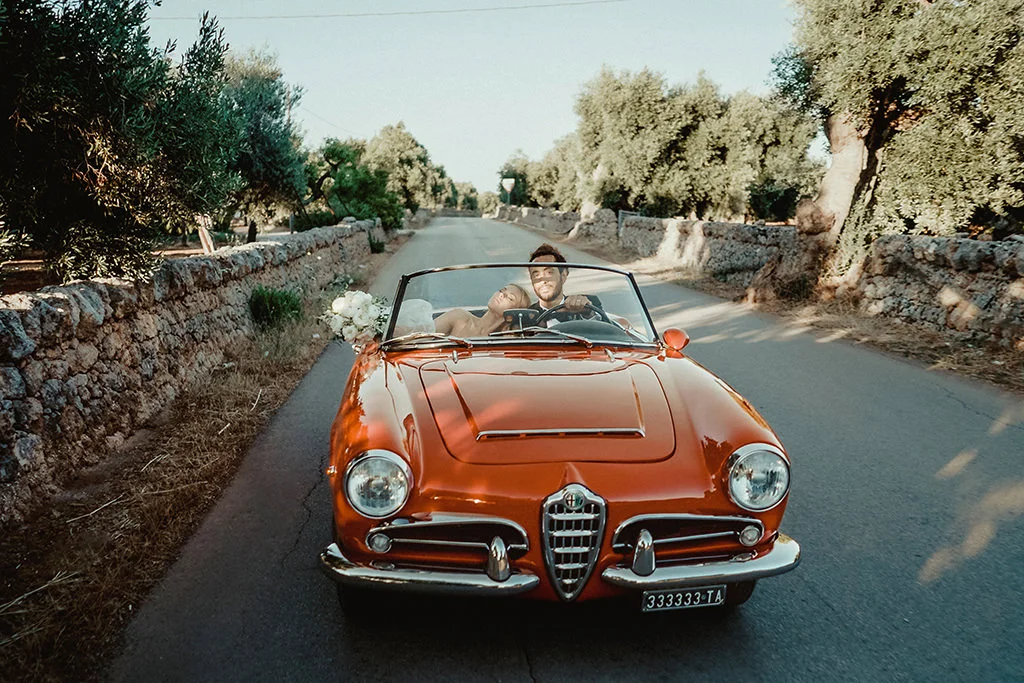 Do It for the view
Imagine yourself getting married in Italy. A country filled with romance, art and culture, with Tuscany being in the middle of it all. What would be really better than taking a piece of artistic heritage from the renaissance and combining it with a stunning landscape for your destination wedding in Tuscany?
Do it for the view! Do it for the art! One thing is sure: you will never regret this decision because you only get married once. That is why you should have the best professionals around you to capture the sheer artistic beauty of your wedding day in a delicate and sophisticated way.
Wedding Video in Tuscany
Apart from photography, videography is another major element of a wedding that is usually stressed upon and it totally makes sense. You're getting married in a different country with one of the best views in the whole country. But since you are abroad, how would you know who to trust? You'll need the best Wedding Videographer in Tuscany. Someone who can connect with you, remains professional and understanding. But why settle for anyone when you could have the best?

As your Tuscany wedding videographer, I can capture the unique landscape and picturesque qualities of the countryside. But again, your wedding video is mainly about you and your story as a couple in the first place. I strive to create something that is timeless, authentic and true to who you are.

I invite you to watch some of my most recent destination wedding videos below so that you can have a better idea about my particular approach to wedding videography. Watch this films and you will quickly realize that what I do is different from anybody else. I would like to create a unique and original wedding video in Tuscany for you.
Why choose me as your wedding videographer in Tuscany?
My name is Kostas Petsas. A Destination Wedding Filmmaker based mostly in Greece, Italy and France – also available worldwide. My philosophy for Wedding & Elopement Cinematography focuses on people, moments and emotions. These are the cornerstones to tell a story that is unique and true to yourselves, making your wedding or elopement film a treasured heirloom for you and your family.
As one of the top wedding videographers in Tuscany, I won't simply capture the breathtaking landscape, I will make it a character in your story. Make your wedding the next romantic story in Tuscany, bringing it to life with video to forever dazzle.
"We spent the whole night crying, laughing and remembering our great day. We are really blessed and lucky to have had you on our special day! Thank you from the bottom of our hearts"

Stephanie & Clément
check out more Kind Words
Wedding Cinematography Awards
I have won numerous awards for my destination wedding videography, including the Inspiration Photograhers Association Wedding videographer of the Year in 2018, 2019 and 2020, as well as the Best Wedding Video in Europe of 2018 and finalist in 2021, Filmmaker of the year 2019 and 2020 in ASIA WPA, and the Most awarded videographer of the year in 2019. I would love to bring my experience and expertise to your celebration as your wedding videographer in Tuscany. Let's create something beautiful and unique together!
Contact
To enquire about your wedding date and book me as your wedding videographer in Tuscany, fill-in the form below and I will send you all the information within 24 hours. We can schedule a Skype or WhatsApp call thereafter. It is that simple!
Tel: (+30) 6943100360
hello@cinemaofpoetry.com