PAGAN WINTER WEDDING IN ICELAND
There may be snowstorms, blizzards, crazy winds, and road closures in Iceland during winter, but it was set in stone that these two would get married on the palindrome, ambigram 22.02.2022! Life can be said as random or filled with coincidences, but 22 will always be a guiding star, a manifestation of dreams into reality. A knowing that what you dare to dream of, even if you thought was impossible, makes the only sense in this world of worlds.
Maiden crowned with glossy blackness,
Lithe as panther forest-roaming,
Long-armed Naiad when she dances
On a stream of ether floating
Gem of earth and sky begotten
Beauty has no mortal father
Child of light! Child of light!
"Bright oh bright Fedalma" - G. Elliot
When Mary Jane and Haikal contacted me and asked me to film their Pagan winter wedding in Iceland, we didn't know what an adventure we were embarking on! The plan for them was to get married on the palindrome, ambigram date 22-02-2022, since the number 22 has always played a very important role in their relationship. Living in Singapore and working in the film industry, they asked me to create a somehow more unconventional, abstract and creative narrative that would tell their story, without it being based on plain documentary capture. The challenge was on!
The days that we have spent together have been characterized by one of the most intense winters in Iceland. We have witnessed blizzards, snowstorms, windstorms, severe weather alerts, road closures. However, it was set in stone that these two would get married on the 22nd of February 22 no matter the weather. We had the opportunity, not only to film in some of the most beautiful and epic winter landscapes of Iceland, but also to strongly connect on a human and personal level, to exchange creative point of views around a bowl of spicy noodles and to create a strong international bond of friendship. And this intense intercultural connection is the reason why I love to film destination weddings and elopements worldwide in the first place.
If you are planning a destination wedding or an adventurous elopement in Iceland, and you are looking for a creative videographer, you may also be interested to check out this Elopement Video in Iceland. Or to watch this intimate elopement film in the Austrian Alps. But first, you should just press the play button right above to watch the captivating story of this pagan winter wedding.
Winter Destination Wedding in Iceland
Although it may sound a cliche, Iceland is one of my favorite places on earth! I feel a particular energy and connection with the land and nature that is unique. It could be the volcanic nature of the land, the magnetic energy of the pole, or the immensity of the ocean. It is something so strong, yet I cannot express it with words…
This energy appears to be even more intense in winter, where days are smaller, weather is more challenging and unpredictable, and travelling to some of the sites can be even more rewarding. Because you may get more privacy even in the most popular spots.
Mary Jane and Haikal were supposed to have a Pagan winter wedding ceremony in an ice cave on the very day of 22-2-22. Yet the weather had other plans. With an ongoing snowstorm for the three days prior to the wedding date, roads were pretty much impraticable, and the strong wind blowing snow made it even worse. We could barely stand outdoors. So we had to look for alternative solutions. The only thing that was set in stone for them was that they would be married on the 22nd of February 2022!
A love story based on the number 22
Mary Jane, our beautiful bride, has explained to me that numerology alway plays a very important role in the Chinese culture. Depending on your date of birth, it calculates your life path number, which explains your journey in life, your gifts, your weaknesses, and your purpose. Based on this and the combination of numbers with your partner, you can calculate your lucky days to get married.
The master number 22 has always been characteristic in Mary Jane's life. She has always used it as a spiritual guide, praying to God, if one exists, as a signal for being on the right path. When she met Haikal, with lesser understanding of each other's life, she foretold his past, present, and future, almost like a witch. And so, as if he was put under her spell, he was bewildered by her and they fell in love. It felt clear that no one could oppose to this magical connection.
Using the number 22 as a guide, all things fell into place, as Mary Jane had prayed for. A home, a future with Haikal – all of which bore the sign of 22, illuminating the path of their collective life journey. 22 was the number in line they received when buying their home, 22 was also the number of the date when he proposed, and 22-02-2022 was meant to be the date of their winter wedding in Iceland.
The Story Concept
"Even as the mountains crumble and the glaciers melt away, I vow to love you until my dying day" – Haikal
Mary Jane and Haikal discovered my wedding videography portfolio online and loved the alternative, arthouse approach of some of my videos. When they contacted me shortly after to film their Pagan Winter Wedding in Iceland they said that they would rather prefer to have an arthouse concept film telling their story, rather than a "conventional" wedding film based on pure documentary and on their vows only.
I am always delighted to work with couples that are willing to go the extra mile, in order to be creative and to allow me to design something different, rather than copying and pasting past weddings or other cliches. Hence, I explained to them that I would gladly direct this film, but also that we were embarking on a multi-day adventure, where we had to spend more time together, in order to know each other better, while being patient and fearless to face the extreme weather conditions, and wait for the right time to film. As the couple themselves are creative professionals of the film industry, we all agreed and arranged to go through all the necessary pre-production work.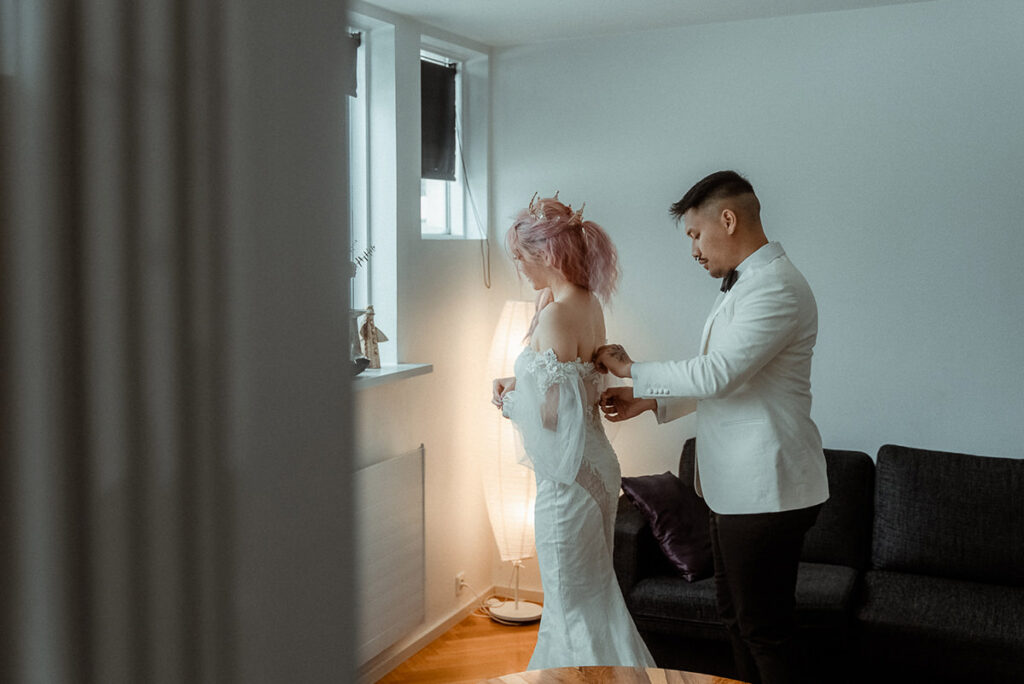 In the short Film I have used parts of traditional Icelandic songs, music and opera, mixed with the soundtrack, alongside a narrative in Icelandic in order to better convey the mood. While the vows of the couple where in English, I believe that the Icelandic narrative blends well with the Icelandic prayer from the Pagan ceremony.
The adventure: Dodging the Weather
The couple traveled to Iceland from Singapore for their winter destination wedding. Initially their ceremony was supposed to be hosted on Jökulsárlón, the glacier lagoon in South Iceland, however we soon discovered it was impossible to leave Reykjavik because of the unprecedented snowstorm. We were always in contact with Nadia, their wedding planner from Amulet Events, and with Haukur, their Pagan Icelandic Wedding Officiant and until the day before the wedding we were discussing about Plans B, C and D ….
The only thing that was sure for the couple was that they were going to have their wedding on the 22nd of February 2022! No matter the weather.
Having already filmed another winter elopement in Iceland in the past, and having extensively scouted the southern part of the island turned out pretty handy. I also did some location scouting the days before meeting them so that I could propose a few alternative locations for their wedding ceremony. Together with Haukur, their officiant, we ended up performing part of their pagan ceremony outdoors near the port of Reykjavik, but the wind was too strong, so we decided that the main ceremony had to be indoors. Plan D it had to be, so we headed for Harpa the modern Opera building in Reykjavik.
A pagan Wedding ritual in Iceland
The Pagan wedding ceremony started with the celebrant sanctifying the location and time. Then the officiant evoked the heathen prayer of the valkyrie Sigrdrífa, featuring a reference to the sons of day (Dagr) and the daughter of night (Nótt). According to Sigrdrífumál, when she was woken from her sleep curse by the hero Sigurd, Sigurd asked her name, and she gave him a "memory-drink" of a drinking horn full of mead, and then said this prayer.
Norse Gods and Goddesses played a huge part in all aspects of Viking life, and weddings included trinkets, charms and representations of important things. A depiction of Mjolnir, Thor's hammer was placed in the lap of Viking brides as it was thought to aid fertility. No pagan ceremony would be complete without a reading from the Poetic Edda (including parts from the sagas, or poetry of Gods and Goddesses). Acknowledgement to the Goddess Freya who is the Goddess of marriage, love, childbirth and motherhood was also given.
Mary Jane and Haikal's pagan wedding ceremony was conducted using an oath ring. The couple along with their pagan celebrant all held the oath ring with one hand while the couple made their personal oaths to one another. The ceremony was then concluded with everyone drinking Icelandic beer from a horn.
The whole event from start to finish was incredible beautiful, mystic and emotional, and I feel honoured to have witnessed it, and to have been chosen to film their pagan winter wedding in Iceland.
Planning a Wedding in Iceland
If you are planning a destination wedding in Iceland then finding the right team of professionals to help you with the process is very important, especially your photographer, videographer, and your wedding planner. Working with Nadia, the wedding planner of Amulet Events, was so nice. She was both very professional, available and flexible to do all necessary arrangements due to change of plans.
Winter Elopements in Iceland
I feel really blessed to be a destination wedding videographer. To be able to travel to iconic places throughout Europe, and the world, and to create arthouse short wedding films in breathtaking locations like Iceland is a dream come true. Although it can be very touristic, busy all year round and has somehow become the playground of wedding photographers, here are a few tips, from my personal experience, if you are planning a winter elopement in Iceland:
Weather in Iceland is unpredictable, always look for weather warnings, follow advise by the local authorities, rely on responsible advise from your photographer and videographer.
Take it easy and always be ready to adapt your plans. It's going to be fun anyway.
Don't challenge nature. It is always stronger and dictates the rules. We, humans, are just a grain of sand in the universe.
In winter season sites and tours are always subject to change, because of the smaller duration of the day time and of the weather. Always plan ahead, and be flexible with a few extra days, leaving headroom for unexpected events, cancellations etc.
When planning your destination wedding in Iceland, always have someone that knows the place involved. The additional experience and assistance with your planning process can always turn out handy.
Book professionals that have already worked in Iceland before. Who have experience with the places, who respect local restrictions and weather and who know what they are doing.
Leave No Trace when you elope in Iceland. Serious professional vendors can help you respect Outdoor Ethics while still having an unforgettable experience.
In any case, summer, spring, autumn or winter, Iceland is an amazing place to plan your wedding and you are in for an amazing adventure.
Are you planning to get married in Iceland or simply to elope there? I would love to hear from you and chat with you about your story. My passport is always ready to travel and film all over Europe and the world. I am confident that we will create something really beautiful together!