PAXOS WEDDING VIDEOGRAPHER - Lebanese Destination Wedding in Greece
What happens when a Lebanese Colombian girl and a Southern French guy meet by chance in Australia? They decide to get married in Greece of course! A multi-awarded, emotional, short documentary that I'm happy to have created for the couple of Stephanie and Clement as their Wedding Videographer in Paxos
Traveling over your body I found
The failing olive and the cajoling flute,
Where I knelt down, as if in prayer,
And sucked a moist pit
From the marl
Of the earth in a sacred cove
"A Greek Island" - Ed. Hirsch
ANAFI WEDDING VIDEOGRAPHER
NAMPHIO
What happens when a Lebanese-Colombian girl and a Southern French guy meet by chance in Australia? Well, they decide to get married in Greece of course! Having the chance to work as a Wedding Videographer in beautiful places as Paxos, I get to meet amazing people, that become good friends, and to tell their lovely stories. This was exactly the case for me with this beautiful mixed couple and their Lebanese destination wedding in Paxos. I suggest that you take the time to press play and watch the destination wedding video right above. Then you can continue reading on to discover the full story behind the film. If you enjoy french wedding films, or simply if you are a french speaker ?, make sure to check out this wedding video in a french chateau near Lyon.
Lebanese destination wedding in Greece
When two people are meant to be, nature finds a way to get them together. Stephanie and Clement were meant to be from the first time they met each other in Australia. Stephanie has half Lebanese origins from her father and half Colombian from her mother, while Clement is from the South of France, Toulouse. Initially, before talking to each other, they thought that they were both Australian but they soon discovered that they both came from France. One year later they met by pure chance in Paris, and they are together ever since.
Little did they know that one day they will come together to a land as beautiful as Paxos to exchange their vows before their friends and family. Watch their wedding film above and read on for the whole story. On this wedding I've had the chance to work alongside some great professionals, Anais the amazing wedding planner from La Fête and Aris the outstanding photographer of Eye Witness Stories. Pictures featured in this article are his courtesy.
Paxos, Greece is a Stunning Place in the Ionian for a Wedding
Smallest of the Ionian island, Paxos or Paxi is a beautiful romantic getaway for couples and tourists alike. Located in the south of Corfu, this island is known as the love nest for Poseidon as far as the myth goes. Paxos is an island of olive green groves and crystal clear waters that inevitably pull nature lovers towards itself.
Naturally decorated with chalky white cliffs of limestone covering the sea edges, some of the cliffs have given way to sea waters to form the sultry blue caves that attract tourists from a far to come and experience the mesmerizing inside views of these caves. The pebble beaches in Paxi have transparent blue waters that reflect the beautiful marine life inside. To reach Paxi one has to take a ferry ride from mainland Greece.
Planning a Wedding in Paxos
Stephanie and Clement travelled from Paris to the Island of Paxos in Greece to get married in their dream wedding location in the small islet of Panagitsa. The venue did not come as a surprise to the couple, because Clement had proposed to Stephanie on this wonderful Ionian Island which made it the most apt and suitable place to get married.
Clement and Stephanie decided to organize a very intimate state of affairs when it came to their wedding by inviting only the closest friends and family members to their big day. They invited 40 guests who could enjoy a vacation away from home and join them as they took their vows.
Wedding planner in Paxos and the Greek Islands
Organizing a destination wedding in Greece was surely a daunting task for the couple who were living in France. However, with the help and assistance of an amazing wedding planner, Anais of La fête, they were able to plan their dream wedding in an Ionian Island.
When it comes to planning a concept destination wedding on a Greek island, there is no better choice than La fête. Anais, the founder of La fête, is an amazing person and a great professional. She is half French and half Greek and has a distinct touch for authentic events with a concept or a particular character. Together with her team, they have created an astonishingly impressive portfolio of organizing destination weddings in the Greek Islands. They always help young couples plan their dream event on the Cyclades, the Ionian islands, or in mainland Greece, while catering to the essential authentic style and boho character.
Therefore, this made La fête the perfect choice Paxos wedding planner for Stephanie and Clement's intimate wedding. This was a crucial choice to ensure a distinctive character for this intimate wedding and the smoothness of the whole event schedule even under unexpected circumstances.
The Importance of a Wedding Videographer in Paxos
Clement and Stephanie looked perfect together. Every time they laughed out loud at a joke during the dinner party it warmed our hearts to see two people who were madly in love to come together. If these moments couldn't go on film to be witnessed again by the same people then the evening would have slowly gradually faded away from the memory – which is why it is highly recommended to hire a wedding videographer in Paxos. The wedding videographer will make sure that every moment worth remembering is captured and saved for you and your loved ones to witness later on.
Since everybody is busy during the wedding ceremony; bridesmaid perfecting their speeches, mother of the bride taking care of the guests, bride getting dolled up by her makeup artist later to be left alone so that she can practice her vows – it is a one take shot. Hence, to make the audience connect emotionally with the story, only a wedding videographer in Paxos with a clear vision and a different point of view can successfully achieve.
In a rustic place like Paxos one can hardly wish to bat their eyes because of the enchanting beauty that surrounds them. You could wish upon absorbing it all in one deep breath and fail at it because of its expansive jaw dropping beauty; the clear waters and reflecting the sunlight can make anyone fall in love. To encapture this gift of nature you need someone to always be on the lookout for great angles and lighting which makes the wedding videographer a must have for your wedding in Paxos.
Wedding Photographer in Paxos
When it comes to wedding photography for your destination wedding, one of the photographers that I recommend that you check out is Eye Witness Stories. I have worked together with Aris for several years as a photo-video team under my previous brand of Arte Cinematica and our aesthetic styles are quite similar. Most pictures in this article are his courtesy.
Paxos Wedding Videography: The Story
How I met the couple
Paxos is a piece of a land right between the sea, surrounded by the clear waters it makes the perfect spot for an intimate destination wedding. Unlike other venues that are beehives for tourist this secluded island, despite being one of the tourist destinations, garners minimal traffic. Before the actual wedding day, I had multiple video calls with the sweet couple to explain them my vision and approach while understanding their expectations from their videographer.
Communicating was easy as they both speak English perfect, but it was also an opportunity for me to exercise my French again. Paxos wedding videography would have been a tough nut to crack hadn't we established this friendly connection between Clement and Stephanie and me as their wedding videographer.
The Preparations
We arrived on the island a day before the wedding, met the couple and the wedding planner to go through the schedule and details for the final time. The only way to access this uninhabited islet of Panagitsa was through a tiny fishing boat. Anais had to coordinate with the groom and his guests that were arriving on the island, and then with the bride for her guests. Everything was perfectly organized.
Everything was going according to our plan until the morning of wedding day when the weather literally rained on our parade. We woke up under soaking rain, terrible winds and thunder. The family and guests of the groom were blocked on the island of Kerkyra and could not join Paxos due to bad weather conditions for the Ferry.
Everything was on the brink of being cancelled because of the bad weather, and as a result Stephanie was equally stressed out for the matter. Although we were at the end of May, the weather felt like December. We met again with Anais, and decided to shift everything a couple of hours later, hoping that the weather would be better. And actually after midday the sky became clearer. There was still a lot of wind, but the groom's family eventually managed to get on the island. Everyone was smiling again!
Next in turn were the bride and groom who had to dress up for the wedding. As the tradition goes, the bride and groom dressed up in two different villages while we filmed them as each one shared moments with their loved ones, perks of being the wedding videographer in Paxos is that you get to experience some of the most delightful moments shared on both sides.
Clement got ready in Loggos village, while Stephanie had her makeup, hair and dressing in Gaios in the private Villa Siora Elena. Clement chose a 4 piece suit by Atelier NA to dress up like the perfect French gentleman he is, while Stephanie wore a cream white lace dress by Elodie Michaud Creations with floral setting in her hair by Les Couronnes de Victoire. She made the most apt of brides combining the conventional with the contemporary through her dress and hair setting. Thanks to the incredibly talented make-up artist Pierre Lahoud -Stephanie's cousin- that had travelled all the way from Jordan for the wedding, Stephanie looked literally amazing. Next in was the formal ceremony.
The Ceremony
The groom's family reached out first to the islet through the much anticipated boat trip, followed by the bride's. After the respective boat trips, everyone arrived on the top of the islet of Panagitsa. The island of the seabirds as it became known.
The guests waited on top of the hill while the couple walked hand in hand together with traditional Greek musicians all the way to the church. The Lebanese priest came all the way from Paris to celebrate a Catholic Maronite ceremony, and although it is an orthodox church the wedding planner Anais helped him obtain a permission to celebrate this wedding.
A lot of DIY from everyone to help the situation, as there were no electricity inside the church, so all the guests appreciated the fact that I had battery powered video lights that we used to light up the dark interior of the church. Sometimes your wedding videographer can save your wedding day!
Emotional Wedding Ceremony in Paxos
The wedding ceremony itself was very emotional. Everyone in attendance had tears in their eyes as the bride and groom exchanged rings and the priest recited verses. With close family members giving heartwarming speeches this coming together of two families showed that love surpasses all bounds and boundaries. Stephanie's father got emotional during the ceremony, barely holding onto his tears. But, it was not just her father, Stephanie herself went all mushy as her friends came forward and paid tribute to the bond they have shared with each other for so long. They held her hand during the ceremony, like all good friends do!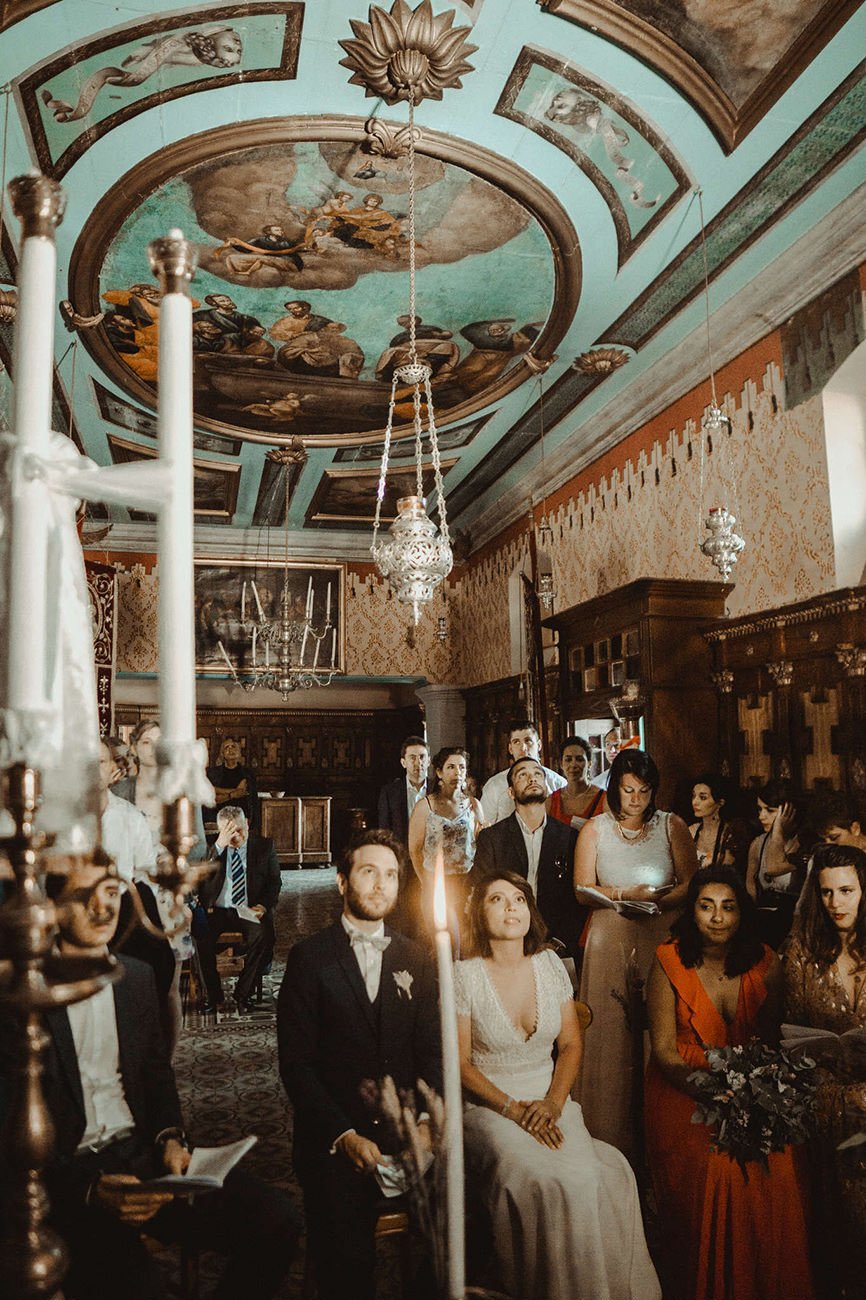 Wedding Party in Paxos
After the wedding there was a boat trip for all the guests around the island, while the bride and groom danced like crazy in the front of the small boat. There was a distinctive energy surrounding this couple that would never diminish. Stephanie's bright wide toothed smile with Clément's slight grin made the whole affair look so easy!
They enjoyed themselves on their way to Loggos. The weather was definitely calm again. We all headed to the small port of Loggos to reach the beach restaurant "Bouloukos" that was the venue for the dinner and the party.
During the traditional dinner, there were many emotional speeches by friends and family. Everyone shared laughter and tears during this moment. The highlight of the evening was probably the speech given by Stephanie's brother in law, who gave Clement some advice on how to survive being married to a Lebanese-Colombian woman.
After the dinner there was a crazy party where the Lebanese family took the lead, everyone danced till the morning. It was truly a match made in heaven!
Destination Wedding Film Awards
This wedding film has been categorized as one of the Best Wedding Videos of 2018 internationally. It has won the Best Wedding Film Award in the 25th Edition of Inspiration Awards by Inspiration Photographers. It has also obtained an Excellence Award in the Second Half 2019 Filmmaking Competition by ASIA WPA.
Don't forget to have a look in some of my other destination wedding films, and go through their stories. Read my philosophy about wedding filmmaking, or go through the Frequently Asked Questions regarding the process.
Your Wedding videographer in Paxos
I feel really blessed to travel to iconic places in the Ionian Islands, as a Destination Wedding Videographer in Paxos and to tell love stories of amazing couples like Stephanie and Clement. Wedding Videography for me is not a routine "industrial" procedure with copy-paste clichés. Connecting with new people and using cinematic language and storytelling techniques to narrate a poignant story in an unconventional way is always a challenge! I can ensure you that your own wedding film will be the best I've ever created so far!
Are you getting married in Paxos? Are you planning your destination wedding in Greece? Then you have found the right person to be your Paxos Wedding Videographer! Being already based in Greece and knowing very well the Greek Islands -be it the Cyclades, or Crete in the Aegean, or the Emerald gems of the Ionian Islands- I can assist you organizing your dream wedding, elopement or pre-wedding session in Greece. Let's start planning your wedding or adventurous elopement in Paxos, Corfu, Cephallonia, Ithaki, Lefkada, or Zante together.