Tuscany is a region well known, not only for its picturesque landscapes, local delicacies and wine, but also for its rich history and deep artistic legacy. Birthplace of the Italian Renaissance, it has definitely had a tremendous cultural influence on the development of European Art. Nowadays it is a region hosting some of the most romantic and luxurious weddings. This post is dedicated to the best wedding venues in Tuscany. These bespoke wedding venues are some of the best in Tuscany, and usually feature amazing gardens, pools, distinctive rooms and other luxury amenities. Most villas are ready to accommodate larger wedding parties and also offer 3 meals a day. These venues are luxurious and the perfect place to celebrate your special day. Every villa has an amazing view which means that you will also have an amazing backdrop for your wedding video in Tuscany.
Top 10 of the Best Wedding Venues in Tuscany for your Destination Wedding
There are many bespoke private villas and castles in Tuscany that can host your wedding, or elopement, ceremony and reception. From the most intimate ones to the larger structures, each one has a distinctive style and luxury to become the perfect backdrop for your special day. This is my selection of the Best Wedding Venues in Tuscany for your Destination Wedding. The venues are not listed in any order of preference. If you have personal experience with another Villa or Castle in Tuscany please share this in the comments below and I will be happy to update this post to include your favorite wedding venue.
Villa La Foce – Sienna
A stunning Renaissance house close to Siena, Villa La Foce is an incredible wedding venue in Tuscany featuring an amazing formal Italian garden with a spectacular view over the valley of the Orcia and the Amiata Mountain. Restructured by the English Architect Cecil Pinsent, La Foce is deservedly considered to be an ideal example of Tuscany's architectural and cultural evolution in the XXth century. An elegant venue for a luxurious destination wedding in Tuscany, La Foce can accommodate your guests into living solutions ranging from small apartments to free-standing farmhouses, all with swimming pools and private gardens.
Villa Gamberaia – Florence
No words can do justice to this historic villa, built in the early 1600s, with a magnificent garden and amazing landscape. A luxury villa located on the hills of Florence, it is a dream venue for your Tuscany wedding. Passing through the gate of Villa Gamberaia, the pathway surrounded by cypresses leads you to the stunning garden of unique beauty and elegance. They have luxurious rooms and many other amenities to host your guests and offer a pleasant stay for your destination wedding.
Villa Cetinale – Sienna
A 17th century villa, designed by the architect Carlo Fontana, in the Roman Baroque style and situated near the picturesque city of Sienna. The Villa Cetinale features gardens that are considered to be amongst the most beautiful in Italy. A long path surrounded with cypress trees will lead you to an elegant courtyard filled with climbing roses, lilies, irises, and vine-covered pergolas. In an ideal setting close to the most important sites of Tuscany, the Villa offers the dream backdrop for your destination wedding, landing it a top spot on my list of the best wedding venues in Tuscany.
Villa Medicea "La Ferdinanda" – Artimino
A stunning hilltop villa in Carmignano, it was built in 1596 by Ferdinando I de' Medici and is a magnificent example of XVI century architecture. Declared a Unesco Heritage Site, this unique destination wedding venue in Tuscany has been visited by the likes of Galileo Galilei and Leonardo da Vinci! Elegant features like the grand stone staircase at the entrance of the villa and views of the rolling hills of the Tuscan countryside create an atmosphere of romance in Villa Medicea "La Ferdinanda". A variety of locations to host your ceremony or reception include; vineyards, olive groves, poolside, and of course beautiful indoor spaces to accommodate events of all sizes, year round.
Villa Catureglio – Lucca
Built in the foothills of Alpe Apuane, this 13th century villa is set on a beautiful secluded estate. A short drive to the infamous walled town of Lucca, Villa Catureglio exudes the essence of rustic Tuscan luxury. The main villa is full of charm, offering spacious rooms with high ceilings and original frescoes. The estate also boasts a pool and number of private cottages on the property to accommodate 41 additional guests. Imagine saying 'I do' among the ornamental gardens, the stunning walled courtyard, or inside a rustic traditional barn? Or maybe you want all three?! If so then Villa Catureglio is the Tuscany wedding venue for you!
Villa Medicea di Lilliano – Grassina
Another stunning wedding venue in Tuscany, Villa di Lilliano is an 11th century wine estate just 15 minutes from the center of Florence. Like many of the famous Medici family properties, the estate is surrounded by rolling hills and lush trees, boasting a charming tiered courtyard, six restored private villas, an authentic chapel and wine cellar, as well as its restored banquet hall. Villa di Lilliano has been established as one of the top 10 destination wedding venues in all of Italy! Look no further if you desire luxury, elegance, history and excellent service for your destination wedding in Tuscany.
Borgo Stomennano – Sienna
Starting at the tree lined driveway leading to the grand gated entrance way, this Tuscany wedding venue does not disappoint. Filled with authentic and charming rustic architecture, Borgo Stomennano is made for romance. Stunning gardens, illuminated courtyards and a magnificent tree canopy set the scene for an authentic Tuscan wedding. The property boasts a luxurious 17th century villa along with multiple country houses, and views of the rolling countryside from all angles, included the infinity pool.
Torre Palazzone – Sienna
You could get married in a real Castle! This is the ultimate Tuscany wedding venue if you are looking for luxury and romance on a larger scale. A spacious and luxurious 11 bedroom property, air-conditioned and featuring a large courtyard. Torre Palazzone is situated at the end of the rolling hills near Sienna, secluded within a nature reserve with views of the valleys and stone walls. The new direction team, as of 2020, are ready to make Torre Palazzone your dream wedding venue in Tuscany. Plan your intimate wedding for a memorable lifetime experience.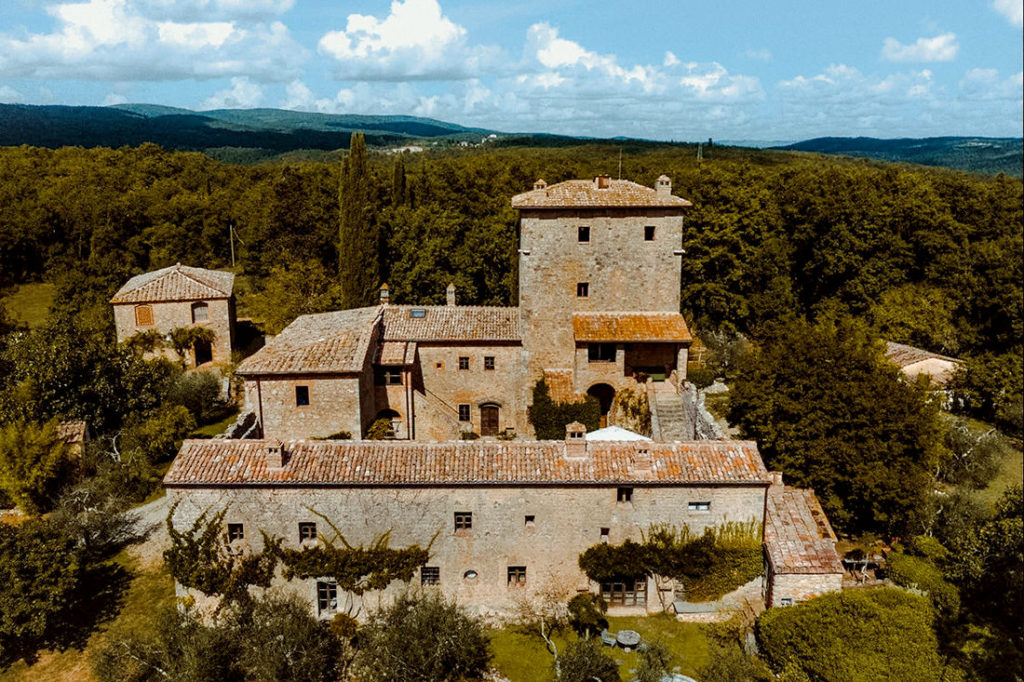 Castello di Meleto – Chianti
Castello di Meleto has a history of hosting grand weddings, like that of Lucrezia, the daughter of Alberto Firidolfi, and Elisabetta, the daughter of Baron Bettino. While many of the rooms are furnished and frescoed in eighteenth-century style, this 11th century medieval castle is a unique wedding venue in Tuscany. The building features an authentic indoor theatre just off the interior courtyard, complete with stage and original set decor. Transformed into a villa in the 18th century, it is now a flourishing vineyard. Of course the property is filled with a fantastic selection of ceremony and reception locations such as; the grand gardens, an enchanting terrace, and even a ballroom!
Villa i Corbezzoli – Chianti
A fully air-conditioned luxury villa, set atop a hilltop south of Florence and at the edge of Chianti. It has a private pool and the scenic beauty of vineyards all around. When you choose to do your destination wedding in Corbezzoli, you are embracing a romantic piece of Italian lifestyle. You can't go wrong choosing Villa i Corbezzoli for your Tuscany wedding venue.
Castello di Vincigliata – Florence (temporarily closed for renovation)
Imagine a Tuscany wedding venue beyond your wildest dreams. Located on a hillside just north of Florence, this 13th century castle was owned by various families of influence in Italian history. The property is full of opulence and romance, boasting grand courtyards, beautiful fountains, breathtaking views from the balcony and of course its own vineyard. The castle also offers both indoor and outdoor gardens, as well as heated interiors for weddings in all seasons. Vincigliata Castle is temporarily closed for renovation. I have included it as an extra contender to the Tuscany Venues Top 10, as it is stunning, and will update you when it becomes again available for bookings.
Planning your Wedding in Tuscany
When planning your Italian destination wedding, there are many factors that have influence on your choice of the Best Wedding Venue in Tuscany. Apart from the obvious choice of aesthetics and vibe, there are two other parameters that will affect your decision on which is the right Tuscan Villa for your Wedding.
Guests
One of the hardest things to do in a wedding is cutting down on wedding guests. Having your wedding in your hometown means that you shouldn't forget to call your neighbor from 5 years ago, or your niece's kindergarten teacher. However, a destination wedding makes you limit the number of people only to the essential ones. The ones that will be able to attend and that will be the heart of the party. This also helps cut down on costs, making it possible to book your dream wedding venue in Tuscany.
Accommodation
Usually when you wed in your hometown, people who are flying in expect the wedding couple to bear the costs for living. However, a destination wedding means the guests will be in a holiday mood. They will pay for their own transport and accommodation. Usually private Villas in Tuscany offer good deals on accommodation when you book their venue for your wedding. It really is a win-win.
Destination Wedding Video in Tuscany
Are you getting married in Tuscany? Have you thought about a wedding videographer in Tuscany? My name is Kostas Petsas, and I am a Destination Wedding Filmmaker based mostly in Greece, Italy and France – also available worldwide. Italy is like my second home, I speak Italian fluently and I spend almost half of my time there. I film destination weddings in Italy very often and I can assist you in organizing your dream wedding, elopement or pre-wedding session in Tuscany, through my network of excellent local professional vendors. Already know which Wedding Venue in Tuscany you want to book? Time to start choosing the rest of your wedding vendors!
Have a look at some of my most recent wedding films in Umbria, Puglia or Ticino over the Lake Maggiore and get in touch with me to create some magic together! And if you liked my guide on where to get married in Tuscany, you can also check my other guides for the Best Wedding Venues in Lake Como and the Best Wedding Venues in Amalfi Coast.
Get in touch today
I cannot wait to hear more about you, your partner and your common plans. Let's start creating your most beautiful memories today!
Your Story is Poetry.