VENICE WEDDING VIDEOGRAPHER - Destination Wedding in Hotel Carlton on the Grand Canal
A destination wedding film of a beautiful couple that I've had the chance to film as a Venice Wedding Videographer in Italy. This wedding video unfolds as a visual poetry. Tourbillon, or Tour De Manège, love is always a beautiful mystery. Love and life always evolve in circle.
Rest with your dream in my dream.
Love and pain and work should all sleep, now.
The night turns on its invisible wheels,
and you are pure beside me as a sleeping ember...
"Love Sonnet 81" - P. Neruda
WEDDING IN VENICE
Over the waters of time
Shooting a destination wedding in one of the most beautiful cities in the world may sound like a dream for many people. Although I strongly believe that a wedding video is always about the story and not about the location, it is undoubtedly an advantage in creating a cinematic backdrop for the story. Today I will share a multi-awarded destination wedding film that I have had the chance to film as a Venice Wedding Videographer in Italy. The couple came all the way from Greece to tie the knot in the amazing moody city of Venice, together with their closest friends and family. A story of a Venice elopement, that unfolds as a visual poetry. Press play and watch the wedding video right above. You can then continue reading, if you want to discover the full story behind the film.
Venice is a dream location to get married or for an elopement
Venice, the capital of northern Italy's Veneto region, is built on more than 100 small islands in a lagoon in the Adriatic Sea. It has no roads, just canals – including the Grand Canal thoroughfare – lined with Renaissance and Gothic palaces and linked by over 400 bridges.
Parts of Venice are renowned for the beauty of their settings, their architecture, and artwork. Venice is known for several important artistic movements – especially during the Renaissance period- has played an important role in the history of symphonic music, and is the birthplace of Antonio Vivaldi.
The central square, Piazza San Marco, features the stunning St. Mark's Basilica, which is tiled with Byzantine mosaics, and the Campanile bell tower offering panoramic views of the city's red roofs.
Venice remains a very popular tourist destination, a major cultural centre, and has been ranked many times the most beautiful city in the world. It is definitely one of the most romantic places and a much sought after destination for couples planning to get married in Italy. Indeed Venice is a dream destination to get married or to plan an elopement.
Venice Wedding Videography: The Story
Mari is a designer and I already knew her from previous shootings that we have done together. From the first moment that I met Efthimis -her boyfriend at that time- and saw them together, I understood that they are a well thought and matching couple and that they are meant for each other. Together for many years, they have both adventurous souls and like to travel. In fact they often travel together with their close friends.
This group of close friends travel the world together and keep with them a piece from each journey, so that they can recall the exact memories and emotions that they have experienced in that particular place, once they are back. Venice has a very distinct place in their heart. What can be better than an intimate wedding or an elopement in the city of Venice?
A love story in Venice
This wedding could not have happened anywhere else in the world. Venice is their preferred place in Italy. So Mari and Efthimis decided in a glance to get married there. As a Venice Destination Wedding Videographer I am delighted to tell their story through this visual poetry.
Being a designer, Mari decided to design her own wedding dress. A crazy task! Their wedding invites were in form of passports and airtickets in order to underline the nomadic character of their lives and their travelling souls. All these custom touches and diy made the event and their special day so unique and different than anything else. I could not have done differently with their wedding film!
Wedding video in Venice
I always suggest to the couples that plan their elopement or wedding to book a Venice Wedding Videographer as the Cinema of Poetry. Not only will we have the necessary paperwork and legal authorization to provide services in northern Italy, we will also be able to suggest the best spots to shoot photos and video in Venice. Hence, you can relax and enjoy the journey.
Bridal preparations
The couple got prepared together in a small cosy appartment in the heart of Venice. Their friends and family assisted them during the whole process of getting ready, as is the tradition in Greece.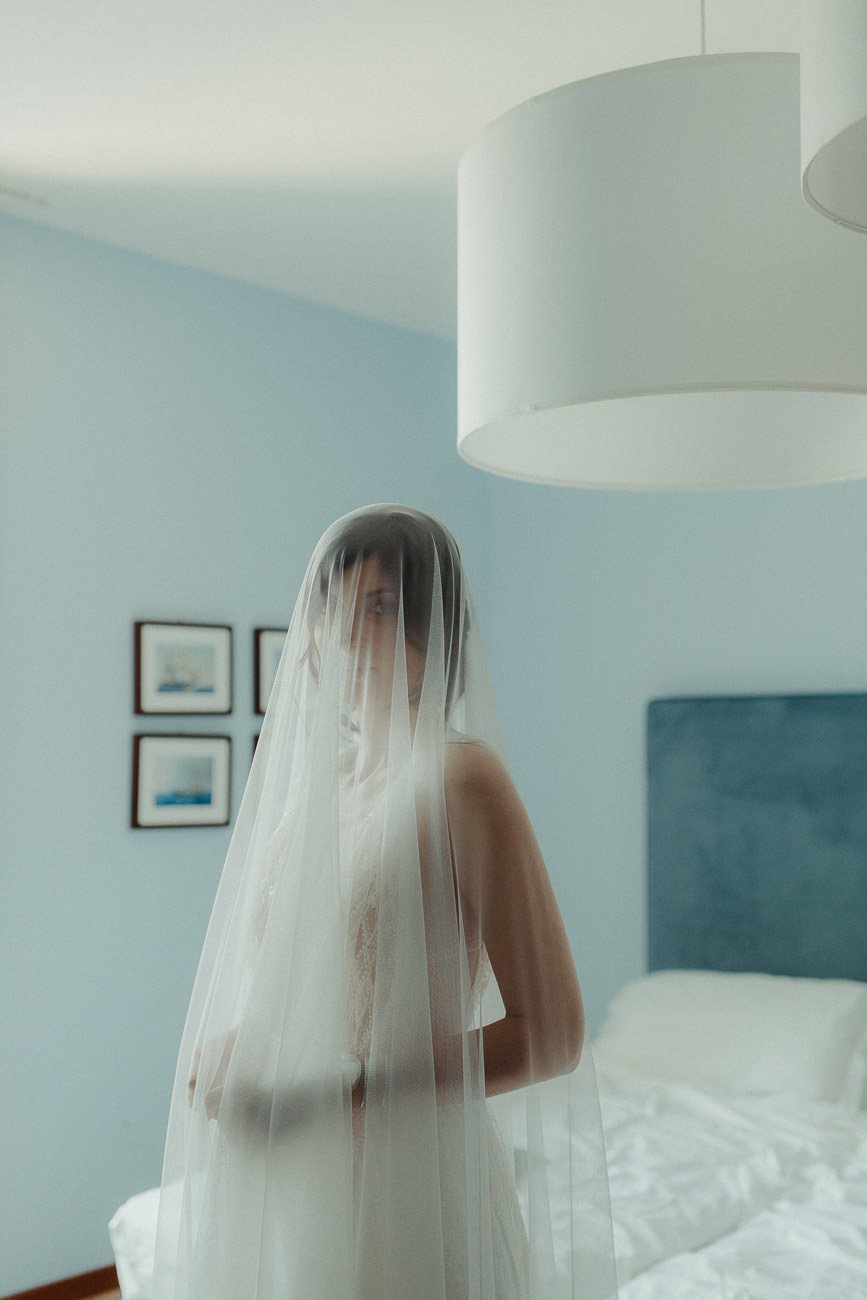 We all had pizzas and beers in the appartment while Mari got her hair done by her good friend and best man Christos. Away from the cheesy cookie-cutter wedding traditions, they are a simple, honest and laid back couple. This is exactly the type of couples that I like to work with as a wedding videographer in Venice, because we can all focus on the essential. Which is the authentic story and the people.
Wedding ceremony
The groom left the appartment together with his friends. The whole group of around 40 people waited at the church for the bride.
Mari sailed to the church having the company of her brother. He is also the one that accompanied her to the altar for the wedding. There is a deep connection between them as brother and sister.
The wedding ceremony took place in the church of San Giorgio dei Greci, the Greek Orthodox church of Venice under a beautiful afternoon light and in a very respectful and emotional atmosphere by the 40 guests.
A delicious dinner followed at the La Cupola Restaurant in the Carlton Hotel on the Grand Canal.
Wedding Video in Venice: Inspiration
Instead of a guest book, the couple chose to have a white globe and the guests had to pick a place in the world and write their wishes on that particular place in the globe. Inspired by the concept of the couple being in constant movement and travelling around the world, I have tried to incorporate this element in their wedding film.
The image of this turning globe helped me create a visual symbol in the evolution of the story. I have further built into this concept of rotation and endless swirl by using moments of the orthodox ceremony that were reminiscent of moving around in a circle. As well as moments of the couple dancing in circle.
Tourbillon, or Tour De Manège, love is always a beautiful mystery. Love and life always evolve in circle. So the cyclical movement in the film also represent these circles.
As for the spoken word, I have created a female-male dialogue between two people. I have used parts of the Sonnet 81 by P. Neruda and of the poetry "Of being Numerous" by G. Oppen.
Wedding Film Awards
This wedding film has won the Best Wedding Film Award in the 24th Edition of Inspiration Awards by Inspiration Photographers. It has also obtained a Silver Distinction Award in the 2020 Annual Filmmaking Competition by WPPI and an Award of Excellence in the Second Half of the Annual Competition of ASIA WPA. Awards are not meant to feed our ego shelfishness, but can be an indication of following a right track towards the development of an authentic artistic style.
All the pictures and video thumbnails featured in this article were shot by me. Although I do not consider myself as a destination wedding photographer, I always love to use a combination of frames from my videos, thumbnails and my own pictures to illustrate story.
Your Wedding Videographer in Venice
It is a real blessing to be able to work as a Venice Destination Wedding Videographer. To travel to the most picturesque places in the Italian north and tell the love stories of some amazing adventurous couples. Mari and Eythymis, for whom I have created this original destination wedding film, are a perfect example of the ideal type of couple for the style of my work. They gave me the right space to create something unique and different that matches their souls and tells their common story.
Are you getting married in Venice? Are you planning your elopement in Italy? Get in touch with me today! I would love to be your Venice Destination wedding or elopement videographer. Italy is like my second home. I speak Italian fluently, I have many Italian friends and travel there several times each year. I cannot wait to meet you! Let's start planning your wedding in Venice, Puglia, Tuscany, Lake Como, Umbria, Positano or Capri in Amalfi Coast or in Taormina in Sicily.
Don't forget to have a look in some of my other destination wedding films, and go through their stories. You can rest assured that your own wedding film will be the best I've ever created so far. Get in touch with me and we can start the magic today!